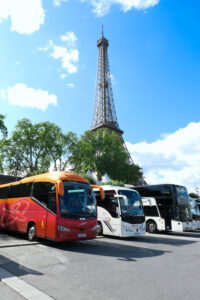 Private Group Airport Transfers – Reserve your seat(s) by Oct. 4
We are pleased to offer private NJSBA group airport transfers to and from the InterContinental Paris le Grand. Assuming we have at least 20 passengers to fill a small bus, transfers will be available on a first-come, first-served basis for arrival Nov. 4, and Nov. 5, and departure Nov. 11. You may purchase one-way or round-trip transportation. Transfers are $45 each way and are non-refundable. The price includes an English-speaking escort to meet you outside customs on arrival, and in the hotel lobby on departure, to assist with the transfer.
Once your purchase has been processed, you will be emailed a form to submit your flight information. If you do not receive this form, please contact Melenie Wernersbach at [email protected].
In the event at least 20 people do not request transfers by Oct. 4, we will contact you so you may make other arrangements.
Registration Links (NOTE: You will be prompted to login when you click on the links before so your transfer can be connected with your NJSBA record. You will only have the option to order an airport transfer if you have registered for the NJSBA Mid-Year Meeting.)
Round-trip arrival on 11-4 or 11-5
Private Individual Transfers
You may arrange for private individual transfers with the concierge department by sending an email with the details of your needs, including the name of the airport, flight number and arrival/departure time to [email protected].
Taxi Fare
The fixed taxi fare from Paris Charles de Gaulle Airport to the Intercontinental Paris Le Grand is 54-68 EUR one way. All taxi drivers have a license to operate in Paris.