2023 Mid-Year Meeting Gala Dinner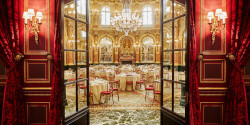 This ticketed event takes place in the Salon Opera at InterContinental Paris le Grand, the most renowned ballroom in Paris. With opulent statues, gilding, 45 foot-high ceilings, a massive chandelier and circle of mirrors, it evokes the splendor of the Garnier Opera House, its illustrious neighbor. This registered historic monument has welcomed royalty, politicians, aristocrats and artists since its inauguration in 1862. Join us for a delightful evening of award-winning classic French cuisine, select wines and music and dancing. Business or cocktail attire.
Price: $195 per person
When: Nov. 8, 7 – 11 p.m.
Click Here To Register For The Gala Dinner