2024 Family Law Symposium
January 26-27, 2024 | Hyatt Regency, New Brunswick NJ
Join hundreds of family law attorneys, judges, paralegals and other related professionals at the Hyatt in New Brunswick at New Jersey's premier family law event, the 2024 Family Law Symposium! Reserve your seat today to hear thought-provoking and insightful
presentations from many of the state's leading lawyers and judges, and to network with colleagues and other family law professionals.
The 2024 Family Law Symposium
Don't miss out on New Jersey's top Family Law event featuring compelling and timely discussions!

Friday | January 26, 2024
Fam Law Symposium Friday Night – Divorce in the Digital Age​
Friday Night Seminar:
Divorce in the Digital Age
This seminar will examine the multitude of issues attorneys and clients now face when navigating divorce and family law matters in a world where technology is increasingly integrating itself into the divorce process. We will address how attorneys can incorporate new technologies to their benefit and the benefit of the client. It will also cover the many ethical pitfalls, which have become more and more prevalent with technological advances. In addition, attendees will hear from judicial panelists, both of whom are also experienced in civil practice, to give further insights on technologies they have seen used or used themselves in that division.
CLE Credits
NJ CLE:
NJ CLE information: This program has been approved by the Board on Continuing Legal Education of the Supreme Court of New Jersey for 2.4 hours of total CLE credit (Full Credits Available: 

CPE Taxation

: 2.0, 

NJ General

: 2.4).
NY CLE:

NY Professional Practice Non-Transitional

: 2.0
PA CLE:

PA Substantive Credit

: 2.0
$8.00 fee – payment is required for PACLE credits, and can be made when registering for this program or when submitting your CLE form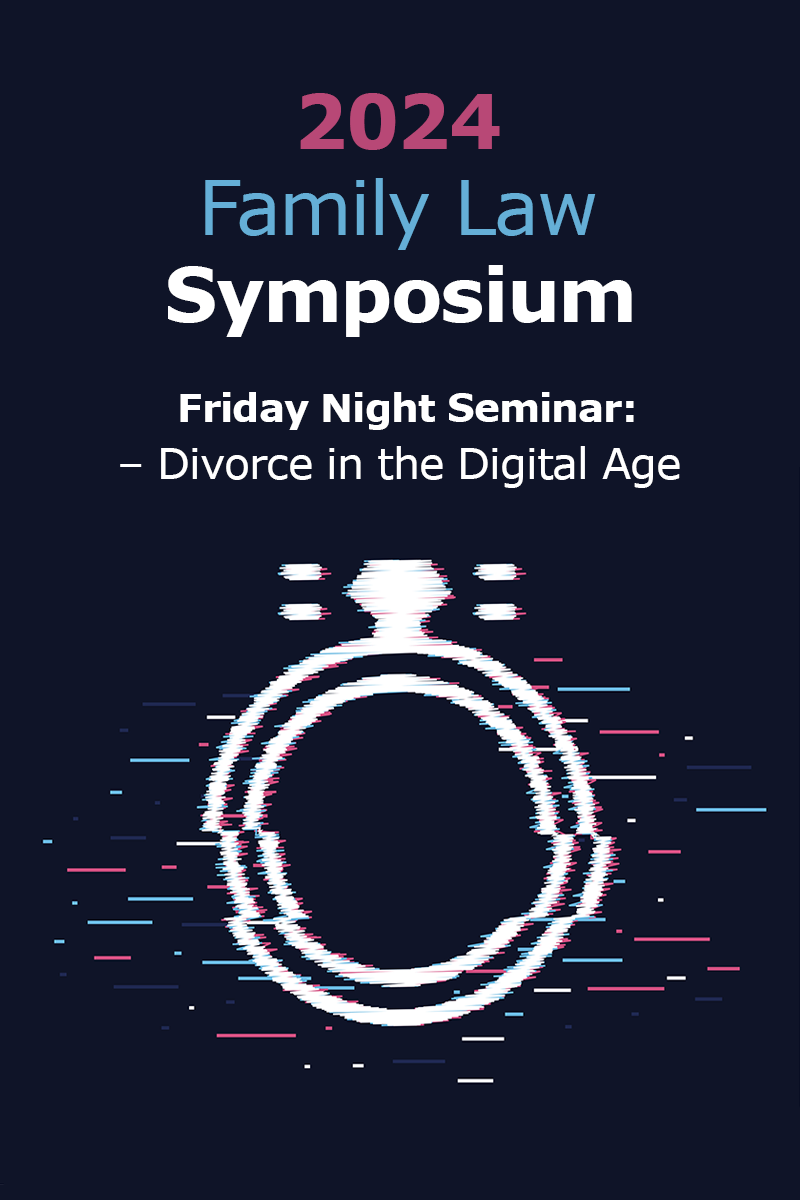 Saturday | January 27, 2024
2024 Family Law Symposium
Program Agenda:
9:00 | Introduction – Megan S. Murray, Esq.
9:05 | Top Ten Cases – John P. Paone, Jr., Esq.
10:00 | The "New" Alimony Statute 10 Years In: What Was Intended and How it Turned Out – Megan S. Murray, Esq.
11:00 | Break
11:10 | Third Parties and Divorce – Derek M. Freed, Esq.; Robert A. Epstein, Esq.
12:10 | Lunch
1:10 | Presentation by Frank A. Louis, Esq.
1:40 | Trial and Error: Effective Trial Techniques and Strategies
An interactive and in-depth panel on trial techniques and strategies for preparing for trial, settling on the eve of trial, and being on your feet at trial. This esteemed panel will discuss all aspects of trial preparation, including witness preparation, trial briefs, an exhibits; preparing for and attending one last intensive mediation on the eve of trial; and opening and closing statements, direct examination, cross examination, and the creating a theory of the case. Attendees will learn how to be an effective advocate for their clients and build credibility and respect from the Court.
  – Moderators/Speakers: Jeffrey M. Fiorello, Esq.; Christine C. Fitzgerald, Esq.
  – Speakers: Hon. Julie Lee Kim, JSC; Rita Ann M. Aquilio, Esq.; Thomas DeCataldo, Jr., Esq.; Timothy F. McGoughran, Esq.; Jenna Shapiro, Esq.; Raquel Vallejo, Esq.
2:40 | Break
2:50 | Poverty Issues in Family Law
In NJ, in family matters, issues of poverty like the access to affordable housing and availability of resources like child care impacts families in all types of legal matters, especially in divorce, non-dissolution matters, child support enforcement and DCPP cases. As advocates, it is important and helpful to understand the True Poverty that exists in NJ along with understanding how various programs like TANF, Medicaid interest with family laws.
  – Moderator/Speaker: Cheryl E. Connors, Esq.
  – Speakers: Jey Rajaraman
4:00 | Important Unreported Decisions – Stephanie Lomurro, Esq.
4:30 | Adjourn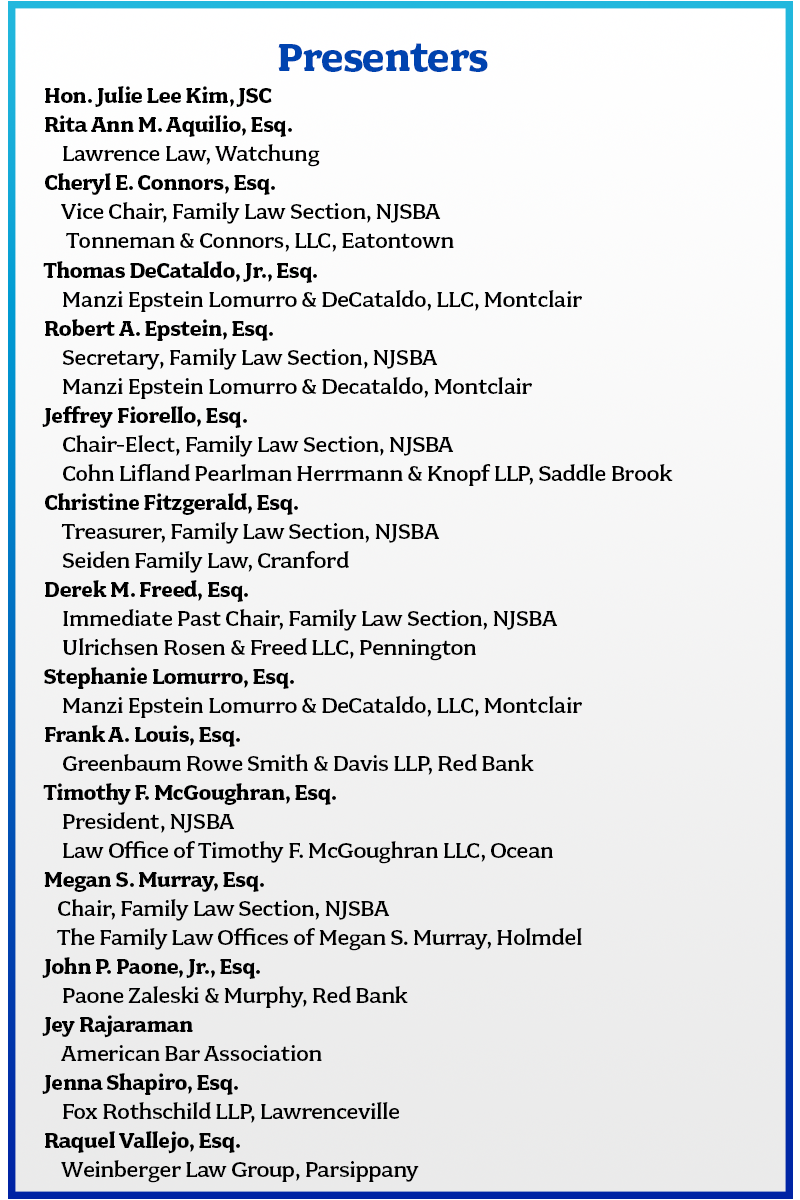 CLE Credits
NJ CLE:
NJ CLE information: This program has been approved by the Board on Continuing Legal Education of the Supreme Court of New Jersey for 6.7 hours of total CLE credit (Full Credits Available: 

NJ General

: 6.7).
NY CLE:

NY Professional Practice Non-Transitional

: 6.5
PA CLE:

PA Substantive Credit

: 5.5
$24.00 fee – payment is required for PACLE credits, and can be made when registering for this program or when submitting your CLE form