A Practice Guide to Wrongful Death and Survival Actions (2018)
Bound Handbook with Forms & Appendices CD
Member Price: $79
Non-Member Price: $99
Written by: Richard E. Brennan, Esq.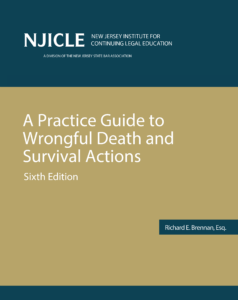 About the Treatise:
Wrongful death actions differ from personal injury and strict liability actions with respect to the parties who may institute such actions, and the damages that can be recovered. Successfully trying a wrongful death case could be your crowning achievement, whether you achieve an award or a no-cause.
New for 2018, this information-packed guide looks at the nuances of the Wrongful Death Statute, N.J.S.A. 2A:31.1 et seq. and the Survival Case of Action Statute, N.J.S.A. 2A:15-3, and features an analysis of the major issues in wrongful death and survival actions, including: damages, statute of limitations, expert testimony, hedonic damages, defenses, evidence issues, Model Jury Charge, and more. Additional topics include equitable tolling for minors, substantial compliance and the statute of limitations, defenses, the psychologist-patient privilege, demonstrative evidence, and handling a wrongful death action.
Forms and appendices in the book are also available on a CD formatted in Word to save you and your staff time when handling a wrongful death or survival action. The forms include:
• Sample complaints, amended complaints, and demands for jury trial
• Answer
• Releases
• Order for Judgment and Distribution
• Sample Economic Expert Report
• Direct Examination of Plaintiff's Economic Report
• Cross-Examination of Plaintiff's Economic Report
• and more

Member Price: $79
Non-Member Price: $99