Join Us Oct 2-5 for NJSBA Member Celebration Days, a series of events dedicated to showcasing the value of NJSBA membership and showing our gratitude to the thousands of dedicated members and volunteers who contribute tirelessly to the legal profession.
Monday, October 2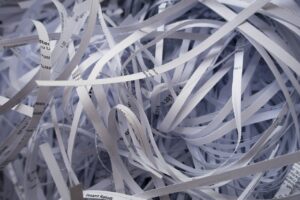 NJSBA Shredding Party: Bring up to five boxes of paper to the New Jersey Law Center for a secure shredding event. Declutter your workspace and ensure the confidentiality of sensitive information. Shredding starts at 9 a.m. and ends at noon – or whenever the truck is full. Space on the truck is limited; registration is required. REGISTER HERE.
NJSBA Job Fair: Head down to the Law Center in New Brunswick from 4-7 p.m. to find your next professional adventure. This event is open to both members and non-members. Come peruse opportunities across law firms, government agencies, businesses, and other organizations actively seeking legal professionals. 
JOB-SEEKERS, please REGISTER HERE.
EMPLOYERS – please REGISTER HERE.
Tuesday, October 3
How ChatGPT and other AI Could Impact Your Practice: A Webinar
Join us from 9-10 a.m. for this webinar introduction on what lawyers should know about Artificial intelligence (AI). For some, AI is an exciting new way to use technology, but others are deeply ambivalent. No matter how you feel, one thing is clear: you need to learn how this new technology will impact the practice of law. For example, the emerging technology of ChatGPT, a powerful AI language model, has the potential to transform legal practice through its ability to provide general legal advice as well as legal research, contract drafting, and document review. While there is potential for AI to improve efficiency and access to justice, there are also dangers and ethical pitfalls that lawyers need to understand. Join Dr. Robert Spangler, Assistant Executive Director and CISO at NJSBA for this free webinar introduction to information every attorney should have. REGISTER HERE.

Legal Research with Decisis: A Webinar: Enhance your research skills in this webinar from 12-1 p.m. Explore the advanced features of Decisis, our powerful legal research tool. Discover efficient methods to access legal information and streamline your work. REGISTER HERE.
Wednesday, October 4
Webinar: From Boardwalk Empire to Better Emails and Briefs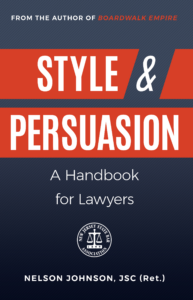 Judge Nelson Johnson, the retired state Superior Court judge and award-winning author, wants attorneys to write and argue better. Johnson who penned the book that inspired the HBO series Boardwalk Empire, is in a great position to give advice. His newest book, "Style & Persuasion: A Handbook for Lawyers" – published by the New Jersey State Bar Association – offers concepts for attorneys of every ilk to build confidence and transform their writing styles in an innovative format. Join us for a free webinar from 12-1 p.m. on Oct. 4. This session has something for everyone. There's general writing guidance; advice on how to be your own editor; insights on how to structure your composition or how to create a lead; and information on crafting pleadings, briefs and oral arguments. REGISTER HERE.
Webinar: How to Use Your Member Wellness Resource
The NJSBA cares about the well-being of our members and their families. That's why we have recently introduced the Member Assistance Program to our suite of benefits. The program connects members — and anyone else in their household — to trained, experienced mental health professionals and resources, including options for in-person counseling. All communications are confidential. Members also have access to an extensive Wellness Library with 25,000 interactive resources to help resolve personal problems or improve your personal and professional lives. Learn more how to make the most of this benefit – and improve your overall wellness – during this session from 3-4 p.m. on Oct. 4 featuring a representative from industry leader Charles Nechtem Associates. REGISTER HERE.
Thursday, October 5
Legal Research Training with Decisis – In Person: Join us at the New Jersey Law Center from 4-6 p.m. for an immersive legal research training session. Discover how to harness the full potential of Decisis and elevate your research capabilities. REGISTER HERE.
NJSBA Open House and Networking Reception: Experience the Association's vibrant community firsthand by attending an in-person Open House at the New Jersey Law Center from 6-8 p.m. Delve into the value of belonging to one of our 80 sections, committees, and divisions. Explore the opportunities that await you in specialized areas of law and network with fellow professionals. REGISTER HERE.
Don't miss this unique opportunity to engage with the NJSBA community, learn, network, and celebrate together. Be sure to check back here for more details and updates as we approach the event dates.
We look forward to seeing you at Member Celebration Days!