Civil Litigation Fundamentals (2006, 2nd Edition)
Bound Handbook
Member Price: $55
Non-Member Price: $69
Authors Include:
Louis H. Miron, Esq.
Avram B. Segall, Esq.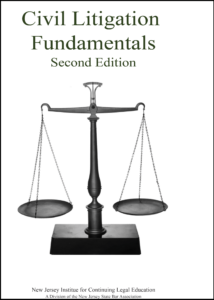 About the Treatise:
This information packed primer on civil litigation in New Jersey, includes a wide selection of forms and proven practice tips. Written by lawyer/educators, this guide covers all fundamental elements of the litigation process in a logical step-by-step learning approach – from jurisdictional and venue issues to pleadings, discovery, and the appeals process. Features a full set of forms for reference, ranging from retainer agreements to several types of pleadings in "special pleading" situations. A must for anyone who is entering the litigation arena, or who requires basic information on how to navigate the litigation system.
Topics include:
• Courts and jurisdiction
• Substantive law including negligence and contracts
• Procedural issues, including pleadings, structure, filing, and service of complaints
• Responsive pleadings

Member Price: $55
Non-Member Price: $69