Estate & Trust Litigation (2020-3rd Edition)
Featuring CD-ROM with sample forms
Bound handbook
Member Price: $151
Non-Member Price: $189
Authors Include:
Steven K. Mignogna, Esq.
Gerard G. Brew, Esq.
Glenn A. Henkel, Esq.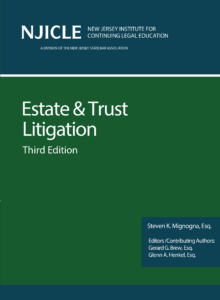 About the Treatise:
Probate litigation has increased dramatically in the last decade. This trend is expected to continue, due in part to families having more money and assets at stake, and to the growing litigious nature of the population in general.
Why you need this book: In New Jersey, probate litigation is subject to a host of rules and procedures, most of which are enforced strictly. This updated comprehensive treatise will provide everything you need to successfully prepare for and litigate an estate matter. The author begins with the historical background and then reviews the most current rules and procedures. He provides a concise analysis of actions to probate wills, will contests, pre-death disputes, guardianships, spousal claims, accountings, fiduciary and attorney compensation, and claims by and against fiduciaries. You'll also find information on legal malpractice, claims against third parties, settlement techniques, novel claims, and modern trends in probate litigation. Embedded throughout are useful case citations that help reinforce the author's discussion.
New for the 2020 edition, the extensive treatment of the Uniform Trust Code as implemented by the New Jersey courts and a new chapter on claims against attorneys (legal malpractice and similar claims).
Special Feature: Included at the end of each chapter are many sample forms that can save you and your staff valuable hours of typing and drafting time. You'll also receive a CD-ROM with sample forms that you can cut and paste directly into your own documents.

Member Price: $151
Non-Member Price: $189