Gibbons on Federal Practice in New Jersey (2023, 4th Edition)
Featuring optional CD-ROM with selected forms
Member Price: $145
Non-Member Price: $179
Written by: Hon. John J. Gibbons (1924 – 2018)
Updated by: Richard S. Zackin, Esq.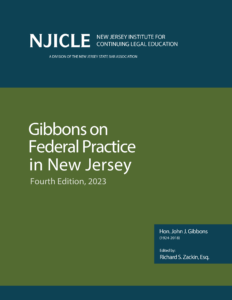 About the Treatise:
This comprehensive manual covers recent significant amendments to both the Federal Rules of Civil Procedure and the Local Civil Rules for the District of New Jersey. The operative word is ELECTRONIC. It includes everything you need to know about electronic filing procedures (e-filing). You'll find out about the changes in motion practice and the hot litigation issue of discovery and preservation of electronically stored information. You'll also learn what's new in protective orders and pro hac vice admissions.
Hon. John J. Gibbons' practice manual, updated by Richard S. Zackin, Esq., takes you step-by-step through every stage of federal practice and procedure – from filing the complaint, discovery, and motion practice to taking depositions, case management, and appealing judgments. This comprehensive manual presents the perspectives of both the bench and the bar. What you learn in this treatise can give you and your client the competitive edge in Federal Court!
If you handle only an occasional matter in Federal Court, this treatise will help with how to best represent your client. If you are experienced in handling matters in Federal Court, you'll pick up practice tips that can make the difference between winning and losing your next case.

Member Price: $145
Non-Member Price: $179