Guide to New Jersey Contract Law (2020, 5th Edition)
Bound Book and Forms CD
Member Price: $140
Non-Member Price: $175
Written by: Clark E. Alpert, Esq.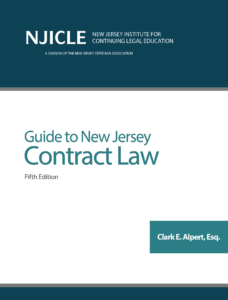 Why You Need This Book:
Every attorney needs to know the law and protocols of drafting, negotiating and litigating contracts. In addition, New Jersey's Supreme Court has a rich tradition of innovation in contract law, which has led some to argue that New Jersey's courts will permit virtually any set of facts as a contract or quasi-contract, or that any evidence will be admissible to enhance understanding of the agreement. However, innovation has not resulted in chaos. There are still "rules" that define what a contract is, how it is formed, how to interpret it, what evidence will be admitted, for what purpose, and what damages will flow from a breach. This substantially revised and updated book covers every major aspect of New Jersey contract law (and some related statutory topics), providing you with the information you need to know. Important topics have been restructured since the last edition, and vital new legal developments have been incorporated. General rules are set forth, exceptions are enumerated, citations are provided, and examples from case law are presented. From common law to the Uniform Commercial Code, you'll find this book an essential tool in your law library.
How This Book Can Help You:
• Essential elements are listed for drafting contracts.
• Includes helpful tips about negotiating an agreement.
• You can benefit from experienced counsel's tips as to how to sue or defend a lawsuit arising from a contract.
• You'll gain an understanding of the interplay between tort law and contract law.
Special Features
• CD with over 60 useful forms
• Rules
• Statutes
• Cases and citations
• and more

Member Price: $140
Non-Member Price: $175