Guidebook to Handling Automobile Injury Cases in NJ (2011)
Bound book and Forms CD
Member Price: $79
Non-Member Price: $99
Written by:
Kelly A. Grant, Esq.
Tara L. Magitz, Esq.
With Revisions by: Audrey Kernan, Esq.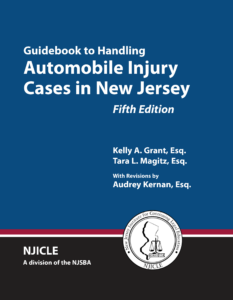 A time saving tool for handling auto injury cases:
• Guides you through every aspect of handling an automobile injury case, from the initial complaint and filing the suit to discovery and arbitration
• Time-saving forms are organized to take you through every step of your case – includes sample complaints, pleadings, interrogatories, report requests, letters to opposing counsel, automobile liability insurance information, and more
• Handy checklists ensure that you obtain all the information you need to achieve a fair and equitable recovery for your client
• A useful tool for new lawyers, general practitioners, paralegals, and other support staff
Highlights:
• Automobile Injury Case Memorandum
• State of New Jersey Hospital Codes, along with Police Accident Report Chart
• Diary system outline
• Sample letters to client
• Unsatisfied claim and judgment claim forms, as well as sample complaint and motion to approve settlement•Medical authorization with necessary HIPAA language
• Statute of limitations information
• Sample letters to physicians
• Motor vehicle forms for requesting information on license plate number, driver history abstract, name and address of driver
• PIP information, including revised and up-to-date PIP application
• CIS form
• Release form
• Information regarding discovery and how it has been affected by Best Practices
• Information on arbitrations, with sample of uniform arbitration statement of facts
• and more!

Member Price: $79
Non-Member Price: $99