Less Than Perfect – A Novel by Phillip G. Auerbach, Esq.
Price: $8
(no discounts apply)
Written by: Philip G. Auerbach, Esq.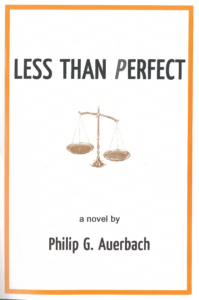 About the Treatise:
In his first legal thriller, expert attorney Phil Auerbach masterfully takes readers on a compelling journey into a world of murder and mystery, where the lines between fact and fiction can quickly become blurred.
Auerbach tells the story of Gary Samuel's haunting experiences with two murder cases, and the unforgettable events that unfolded as a result of them. With detail only a master like Auerbach can provide, Less Than Perfect is a fast-paced journey through the eyes of an attorney, the inner struggles of young defendants & cases that provide twists and turns that will keep you turning page after page. Each new development will take you deeper and deeper into Auerbach's world – and you won't want to miss a thing!

Price: $8
(no discounts apply)