New Jersey Bankruptcy Manual (2014 Edition)
Bound handbook and Forms CD
Member Price: $199
Non-Member Price: $249

Authors Include:
Editor in Chief: Hon. Rosemary Gambardella
Editorial Board: Karen A. Giannelli, Esq.; Marie-Ann Greenberg, Esq.; John Morton, Esq.; Jeanne A. Naughton, Esq.; Robert J. Schneider, Esq.;Michael D. Sirota, Esq.; Kelly Beaudin Stapleton, Esq.; Daniel M. Stolz, Esq.; Jack M. Zackin, Esq.
Judicial Advisors: Hon. Gloria M. Burns; Hon. Andrew B. Altenburg, Jr.; Hon. Kathryn C. Ferguson; Hon. Rosemary Gambardella; Hon. Christine M. Gravelle; Hon. Michael B. Kaplan; Hon. Donald H. Steckroth; Hon. Novalyn L. Winfield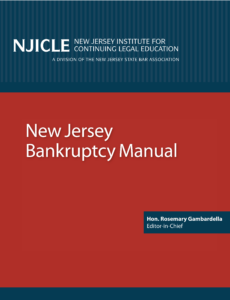 About the Treatise:
This comprehensive volume reflects recent developments under the Bankruptcy Abuse and Protection Act of 2005, plus related guidance concerning practice and procedure. Featuring a thorough review of many of the significant and emerging practice issues under BAPCA, with relevant statutory references, as well as reference to federal and local bankrutpcy rules and general orders. Also includes a comprehensive selection of national and federal forms.
How this book can help you handle any bankruptcy proceeding…
• Includes a completely updated guide for representing debtors, creditors, and trustees in Chapter 7, 11, and 13 cases
• Helps you determine under which chapter your client should file
• Contains the forms you need to institute bankruptcy actions
• Puts key bankruptcy cases at your fingertips
• Detailed appendices make information easy to find
Special Feature…
In addition to the bound book, you'll receive a CD-ROM featuring a wide selection of forms.

Member Price: $199
Non-Member Price: $249