New Jersey Domestic Violence Practice & Procedure (2009)
Member Price: $71
Non-Member Price: $89
Authors include:
Hon. Angelo J. DiCamillo, JTC
Ruth Anne Robbins, Esq.
Michael M. Abatemarco, Esq.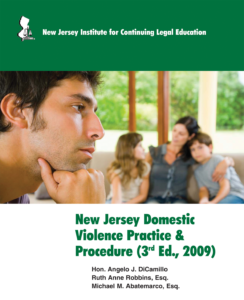 About the Treatise:
A sitting judge and a Clincal Associate Professor of Law in the Nationally renowned Rutgers Law School Domestic Violence Project take you step-by-step through the process of obtaining a restraining order, filing a claim, and going to trial based on the provisions of the N.J.S.A. 2C:25-17 to 35.
Includes comprehensive information on:
• The psychology of domestic violence and its victims
• Two-step process of obtaining restraining orders
• Criminal aspects of a domestic violence proceeding
• Kinds of relief
• Can domestic violence cases be settled? Under what conditions?
• Immigration issues
• plus points that provide insight into the nuances of representing a client in a domestic violence action
Highlights:
• Supreme Court Domestic Violence Procedures Manual – which sets the procedures and policies for the courts, police and prosecutors in New Jersey
• Recent statistics on domestic violence in New Jersey
• Information packed section on:
| | |
| --- | --- |
|   | – Parallel Criminal Proceedings in a Domestic Violence Action |
|   | – Representing the Batterer |
|   | – Appeals |
|   | – Special Issues Regarding Military Personnel |
• Recent case law through December 2004

Member Price: $71
Non-Member Price: $89