New Jersey Family Law Practice (2022, 16th Edition)
2 Volume Bound Handbook
Member Price: $239
Non-Member Price: $299
Authors include:
Written by: Gary N. Skoloff, Esq. and Laurence J. Cutler, Esq.
Additional Chapter Authors include: Robert Corcoran, Esq., Christopher W. Hliboki, Esq., Eric S. Solotoff, Esq., and David R. Tawil, Esq.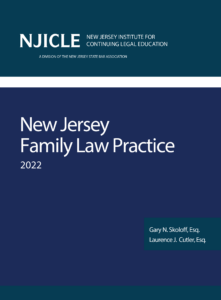 About the Treatise:
This newly updated comprehensive manual takes you through every aspect of matrimonial practice
Regarded as the "bible" by family judges and practitioners and often cited by judges in their written opinions, the 16th edition is an extensive revision of the 15th Edition in that: (1) it updates all of the matrimonial cases since the last edition; (2) rearranges the chapters and sub-sections in a more logical and free-flowing manner; and (3) it corrected a lot of the minor errors in the prior edition. The 16th Edition of this definitive series of practice manuals takes you through every phase of a divorce. Packed with "how to's" and helpful practice tips, this manual offers the foundation you need to advise your clients on divorce, annulment, custody, alimony, child support, equitable distribution, counsel fees, bankruptcy, taxation, domestic violence, stock options, and other related matters.
Chapters covered in this manual:
1. Divorce
2. Custody
3. Alimony and Child Support
4. Equitable Distribution
5. Matrimonial Documents
6. Counsel Fees and Costs
7. Basic Tax Rules and Their Application

Member Price: $239
Non-Member Price: $299