New Jersey Labor and Employment Law (2009, 3rd Edition)
2-Volume Bound set
Member Price: $159
Non-Member Price: $199
Authors Include:
Editor-in-Chief: Wayne J. Positan, Esq.
Managing Editor: Hon. Richard A. West, Jr., ALJ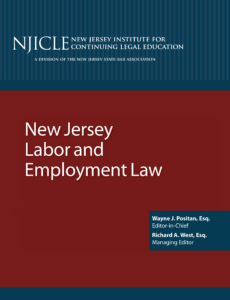 About the Treatise:
More than 40 of the state's leading labor and employment lawyers first compiled this comprehensive treatise in 1998, and over a decade later it continues to be New Jersey's "go to" labor and employment law publication. Now updated with all of 2009's latest developments, this "must have" manual features both the plaintiff's and defense viewpoints on virtually every aspect of labor and employment law practice.
Why you can't afford to handle labor/employment matters without this publication…
• Well-balanced analysis helps you anticipate your adversary's arguments.
• The only major New Jersey labor law treatise covering publicsector employment and labor relations.
• Written and edited by attorneys who have been involved in many of the reported cases that have shaped this area of practice.
• An excellent resource for reviewing potential causes of action and defenses.
• An efficient analytical resource to quickly key you to areas of research.
• Detailed index helps you find information quickly and easily.

Member Price: $159
Non-Member Price: $199