New Jersey Legal Research Handbook (2012, 6th Edition)
Member Price: $71
Non-Member Price: $89
Written by: Paul Axel-Lute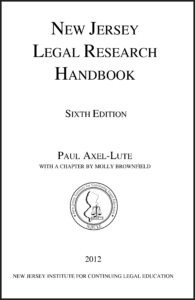 About the Treatise:
This "must have" guide, the only comprehensive current work on finding and citing New Jersey legal information:
• Offers detailed advice on how to use online sources including Westlaw, Lexis, LoisLaw, VersusLaw, PACER, tax research services, the Legislature's web site, and the Rutgers-Camden web site.
• Provides guidance on citation form according to both The Bluebook and local practice.
• Includes chapters on federal law and the law of other jurisdictions.
Reference lists include a subject guide to monographs on New Jersey law, citations of important executive orders in force, a table of abbreviations, publishers' addresses, and a bibliography of New Jersey legal history.

Member Price: $71
Non-Member Price: $89