New Jersey Mass Torts and Class Actions (2020)
2 Volume Treatise
Member Price: $79
Non-Member Price: $99
Authors Include:
Editor-in-Chief: Christopher M. Placitella, Esq.
Associate Editor: Jared M. Placitella, Esq.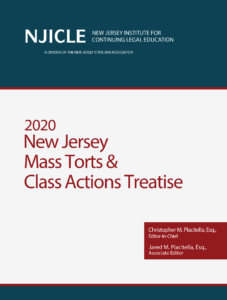 About the Treatise:
Multicounty Litigation are those personal injury claims involving a large number of claimants linked to a single product. More often than not, lengthy litigation is followed by a large recovery. Currently, New Jersey recognizes several Mass Tort and Non-Mass Tort Centrally Managed cases that are handled by the Multicounty Litigation Section. This updated treatise addresses the substance and procedure in multicounty litigation cases.

Member Price: $79
Non-Member Price: $99