New Jersey Mortgage Foreclosure Practice: The Fair Foreclosure Act (2021, 5th Edition)
Bound handbook and Forms CD
Member Price: $159
Non-Member Price: $199
Authors Include:
Myron C. Weinstein, Esq.
Brian Kerins, Esq.
2021 Update by:
Brian Kerins, Esq.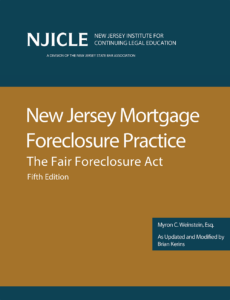 About the Treatise:
Mortgage foreclosures are at a record high. Get ready to handle an increasing number of foreclosures with this completely updated practice manual formerly known as "New Jersey Fair Foreclosure Practice." This treatise provides a detailed background on foreclosure in general, plus a comprehensive analysis of the Fair Debt Collection Practices Act. You can order with optional CD-ROM featuring all updated forms to cut & paste directly into your own documents.
Why you can't afford to do a foreclosure without this book
• Takes you step-by-step through the entire residential mortgage foreclosure process in New Jersey
• Includes current forms and checklists to guide you through the process
• Answers the most commonly asked questions
• Can be ordered with optional CD-ROM with 134 forms in Word that can save you hours of time typing lengthy forms
Plus, completely updated information on…
• Public Policy Reasoning
• Definitions
• Notice Requirements
• List of Government and Non-Profit Organizations that can Assist a Debtor Cure a Default
• Requirements to Cure a Default
• Validation of Debts
• Conventional Foreclosure with Sale
• Optional Procedure without Sale
• Adjournment of Sheriff Sales
• Commencement of Action
• Procedure for Judgment
• Post-Sale Redemption
• Strict Mortgage Foreclosure
• Condominium Association Lien Foreclosures and Homeowners Association Liens
…with an Appendix featuring over 134 forms!
The CD-ROM features…
The CD-ROM – formatted in Word and PDF – is packed with over 134 forms covering every aspect of mortgage foreclosure practice. You can cut and paste these forms directly into your own documents, saving you and your staff hours of time typing lengthy forms!

Member Price: $159
Non-Member Price: $199