NJ Family Law ADR Handbook (2015)
Member Price: $79
Non-Member Price: $99
Written By:
Laurence J. Cutler, Esq.
Mark Gruber, Esq.
Edward J. O'Donnell, Esq.
Amy Z. Shimalla, Esq.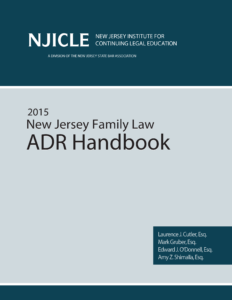 About the Treatise:
New Jersey Family Law Alternative Dispute Resolution (ADR) is a new concept in which the authors explore all of the institutionalized avenues for resolution of matters in an out-of-court setting. Specifically, the book deals with mediation, binding arbitration, non-binding arbitration (ESPs) and the collaborative divorce process. It is the first time that all of these disciplines have been discussed in one volume.
The book starts with the history of ADR in New Jersey and progresses through its latest incarnations which include the new rules and forms on arbitration. While ESPs and mediation have been vehicles for settlement in New Jersey for some time, binding arbitration and the collaborative process are relatively new and are just coming into vogue. The book will acquaint the user with all of these processes. The book also includes a robust appendix on each topic in order that the reader can have access to the structural law all in one place.
This handbook includes chapters on:
• Historical Development of ADR in New Jersey
• Participation of the County Bar Associations
• Structure of the County MESPs
• Types of Matters Submitted to MESP
• Coordination with other ADR Programs
• Historical Background of Mediation
• Court-Ordered Matrimonial Economic Mediation
• Qualification of Court-Ordered Mediators
• Advantages of Arbitration
• The Arbitration Proceeding
• Pros and Cons of the Collaborative Process
• Statutory Authority for Collaborative Law in New Jersey
• Use of Mental Health and Financial Professionals
• Ethical Issues in New Jersey

Member Price: $79
Non-Member Price: $99