Profitable Law Firm Management (2015)
Bound handbook and CD
Member Price: $80
Non-Member Price: $100
Authors Include:
Thomas D. Begley, Jr., Esq.
Gary B. Garland, Esq.
Colleen M. Caruso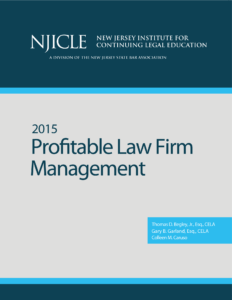 About the Treatise:
The success of your law firm depends on four key factors: 1. Your ability to attract clients 2. Your ability to efficiently deliver high-quality legal services 3. Your ability to anticipate change and adapt to it 4. Personal qualities and characteristics of your key people
This comprehensive manual was written by those who have made their firms models for law firm management. They have implemented automated systems for every aspect of practice, from hiring staff, to attracting clients, to efficiently handling an increasingly large volume of cases. If you implement these systems in your law office, you can increase your revenue through marketing and fee setting, and control your costs by operating more efficiently.
These systems can be used by all lawyers, whether you are a litigator, transactional attorney, or general practitioner. The forms that are featured both in the book and on the CD-ROM include language that can be adapted to any area of practice. The systems are particularly useful for solo practitioners and attorneys in small and medium-sized law firms who are seeking ways to manage their law firms for greater profitability.
Ten reasons why you need this book:
1. You'll find out how to go beyond the role of lawyer to become an entrepreneur and a manager.
2. You'll learn the formula for success to maximize profitability.
3. You'll find out how to choose the best management structure for your law firm.
4. You'll discover time management techniques that can add hours to each day.
5. You'll explore common malpractice traps and learn how to avoid them.
6. You'll find out how to choose the best billing system for your particular needs.
7. You'll get up to date on the right hiring techniques to help grow your firm.
8. You'll learn how to develop systems for the most efficient delivery of legal services.
9. Technology is everywhere. You'll learn how to most effectively utilize hardware, software, and the Internet.
10. You'll find out how to anticipate changes in the legal profession, and then adapt to it quickly and profitably.

Member Price: $80
Non-Member Price: $100