Try It with Friends (2010)
Bound book and DVD
Member Price: $101
Non-Member Price: $125
Authors Include:
Philip G. Auerbach, Esq.
Jonathan H. Lomurro, Esq., LLM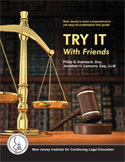 About the Treatise:
Order "Try It – With Friends" today; you'll get New Jersey's essential trial guide, a DVD highlighting courtroom technology & plenty of tips from a mentor who will help you win the cases you try.
The author of the very popular "Try It" and "Try It Again" series has returned – this time with New Jersey's most comprehensive yet easy-to-understand trial guide. Phil Auerbach, an attorney with immense success in the courtroom (whether trying murder cases or million-dollar personal injury cases) has done it again with "Try it With Friends."
In this new installment, he shares both his trial skills as well as more than 30 years of experience teaching trial techniques in New Jersey and nationally. After reading the book, which describes every aspect of trial work, you'll have both the confidence and the skills you need in representing your clients in court.
Keeping up with the latest developments in technology, co-author Jon Lomurro provides the information you need to know on the latest, most comprehensive forms of technology in the court-room, from power-point to computer reproductions. Not only does Jon disclose the latest in technology- he also gives examples of the testimony required for the use or admission of these tools.
Ken Heathington and Gary J. Huett, two nationally known experts, in addition to the text, provide a computer DVD showing actual computer animations, recreations, and trial applications.
Don't get left behind- order "Try it with Friends." From jury selection to jury charge, and more, you will learn the necessary skills for success in the courtroom to try a winning case.
Interested?
Check out some sample pages: click here

Member Price: $101
Non-Member Price: $125