Yudes Family Law Citator (2013)
3 Volume Bound books with 2014 through 2022 update books and PDF CD
Member Price: $169
Non-Member Price: $209
Written By: James P. Yudes, Esq.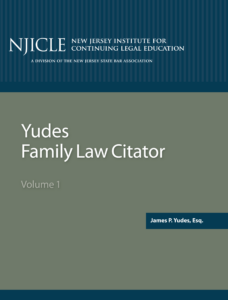 About the Treatise:
Featuring over 70 years of major case digests!
How this set can make your research more effective and efficient…
• Puts a digest of every major New Jersey family law case since 1947 at your fingertips.
• Organized into 10 sections to make cases easy to find: alimony, child support, custody/visitation, equitable distribution, ethics, attorney fees, sexual offenses, non-divorce, and cause of action/jurisdiction.
New CD-ROM
This set includes all major case digests from 1947 through early 2022.
Includes
Yudes Family Law Update: 2014 (2014) Material
Yudes Family Law Update: 2015 (2015) Material
Yudes Family Law Update: 2016 (2016) Material
Yudes Family Law Update: 2017 (2017) Material
Yudes Family Law Update: 2018 (2018) Material
Yudes Family Law Update: 2019 (2019) Material
Yudes Family Law Update: 2020 (2020) Material
Yudes Family Law Update: 2021 (2021) Material
Yudes Family Law Update: 2022 (2022) Material

Member Price: $169
Non-Member Price: $209