Commercial Real Estate Transactions in New Jersey (2019)
Member Price: $239
Non-Member Price: $299
Editor in Chief: Jack Fersko, Esq.
Contributing Authors: Frank T. Araps, Esq.; Anne S. Babineau, Esq.; Stephen E. Barcan, Esq.; Russell B. Bershad, Esq.; Steven Cohen, Esq.; Mark Conlan, Esq.; Martin F. Dowd, Esq.; Alexander Fineberg, Esq.; Lawrence J. Fineberg, Esq.; Karen A. Giannelli, Esq.; Laura Gitlin, Esq.; John H. Hague, Esq.; Marcie R. Horowitz, Esq.; Jay A. Jaffe, Esq.; Donna M. Jennings, Esq.; Charles F. Kenny, Jr., Esq.; Christine F. Li, Esq.; Vincent Maltese, Esq.; Michael P. Martirano, Esq.; Harry E. McLellan, III, Esq.; Laurie E. Meyers, Esq.; Chris J. Murphy, Esq.; Fredric Plotnick, Ph.D., Esq., P.E.; John J. Reilly, Esq.; Lawrence F. Reilly, Esq.; Michael E. Rothpletz, Jr., Esq.; Matthew J. Schiller, Esq.; David C. Scott, Esq.; Charles J. Stoia, Esq.; Scott Sumner, Esq.; Steven J. Tripp, Esq.; Ann M. Waeger, Esq.; Lawrence C. Weiner, Esq.; Michael C. Woodruff, Esq.; and other contributors listed in the table of contents.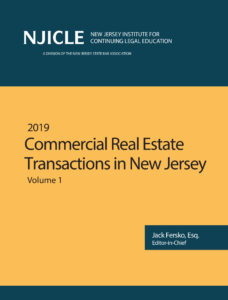 About the Treatise:
This completely updated comprehensive "solution-based" resource manual is the ONLY complete guide to handling virtually every aspect of a commercial real estate transaction in New Jersey. The "blue-ribbon" panel of contributing authors provides the theory to address a wide range of commonly confronted transactional issues, and then follows with practical solutions and contract language to address the needs of your clients. Whether you are new to commercial real estate and need answers to the myriad of issues that arise on a daily basis, or an experienced practitioner looking for solutions to complex questions, this comprehensive 3 volume treatise will prove invaluable when drafting and negotiating commercial real estate deals!
Now includes a chapter on Real Estate Tax Appeals!!
Unique Features:
• Comprehensive – Discusses the theory behind each aspect of the transaction, followed by practical language and proven solutions to deal with a wide variety of issues.
• Portable size – Allows you to keep this book right on your desk while you are working on an agreement.
• New Jersey specific – Addresses every concern you need to consider when handling a commercial real estate transaction in this state, including title, common interest ownership, and brokerage related considerations.
• Includes FOUR sample leases – Industrial, office, retail, and ground. Use these samples as the basis for a wide range of projects.
• Features a multitude of sample clauses – Use these time-tested clauses to resolve a wide variety of issues, including environmental and land use.
• Transaction-oriented – Provides techniques for structuring commercial real estate transactions, including financing issues, tax planning and bankruptcy.
Who needs this book?
• Attorneys who concentrate in commercial and industrial real estate: Use this book as a handy reference to quickly find the answers to your questions, or research any issue that arises while handling a transaction – from environmental, land use, or financing problems to construction, title, or bankruptcy issues.
• General practitioners, new lawyers and others who do NOT concentrate in commercial real estate: Read this book! It is your step-by-step guide through every aspect of handling a commercial real estate transaction, from the law involved to practical solutions and contract language.
• Real Estate Brokers, Insurance Agencies, Title Agencies, Banks, Environmental Consultants, Engineers, Developers, Property Managers, etc.: Refer to this comprehensive treatise to familiarize yourself with the legal aspects of commercial real estate transactions.
Special Features:
Several sample forms are included throughout the 3 volume set and on a CD-ROM. Cut and paste these forms directly into your own documents to save you and your staff valuable hours of typing and drafting time.

Member Price: $239
Non-Member Price: $299