Guidebook to Chancery Practice in NJ (2018, 10th Edition)
Bound Handbook and Word CD
Member Price: $159
Non-Member Price: $195
Authors Include:
Hon. William A. Dreier
Paul A. Rowe, Esq.
Andrea J. Sullivan, Esq.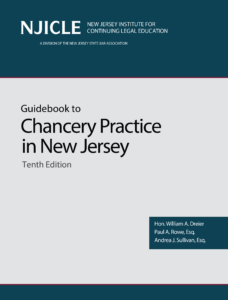 About the Treatise:
Updated for 2018, this revised manual will provide you with everything you need to know about handling cases before the Chancery Division of the Superior Court of New Jersey. It provides you with both the perspective you need to truly understand how to gain the best outcome for the clients you represent, and the literal foundation you need to make sure you're on sound footing.
You'll also find a comprehensive appendix, including samples of most important forms you're likely to encounter.
The 2018 Guidebook to Chancery Practice includes:
• Equitable Maxims & Equitable Defenses
• Equitable Remedies
• Remedies In Equity Or At Law
• Some Effects Of Filing In Chancery
• Chancery Procedures
• Frequent Misfilings In General Equity
• Appendices
• Table of Authorities
• and more
The tenth edition features a CD-ROM with new forms that you can cut and paste into your own documents when instituting chancery actions and procedures.

Member Price: $159
Non-Member Price: $195