Landlord-Tenant & Related Issues in the Superior Court of NJ (2023)
Bound handbook
Member Price: $159
Non-Member Price: $199
Authors include:
Hon. Mahlon L. Fast, JSC (Ret.)
Bruce E. Gudin, Esq.
Erin Ehrlich Caro, Esq. ​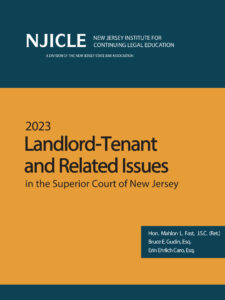 ​About the Treatise:
This comprehensive new manual replaces the 8th Edition of the Guide to Landlord/Tenant Actions in the Special Civil Part of The Superior Court of New Jersey. It includes key opinions – both reported and unreported, as well as the text of statutes and Court Rules, including those relating to actions in the Law and Chancery Divisions, Part IV of the Rules of Court. The book also includes 38 opinions decided since the 8th edition, additional subjects, the authors' observations, and references to new and helpful Internet resources.
Cited as an authority…
This manual is provided by NJICLE to all Special Civil Part Judges, is considered the "Bench Manual" for Landlord-Tenant Cases and is used by numerous attorneys related to the covered subjects.
Judge Fast's previous volumes are recognized as authoritative in the field, having been cited in numerous Appellate Division decisions, as well as by the NJ Supreme Court. This New Edition includes:
• New and updated for 2023
• More unreported opinions
• More, and longer quotes of statutes, cases, and Rules of Court (including the rules applicable to Law Division actions, which, in many instances, are made applicable to an action in the Special Civil Part)
• Chapters organized for easier use
• Each chapter introduced with a brief description
• Most text in "plain language" with italicized words or phrases for emphasis and bold printed legislation, regulations, court rules, and "key" words or concepts that should be found in the New and User-friendly expanded Index
• Over 500 pages of text, analysis, and current laws

Member Price: $159
Non-Member Price: $199