New Jersey Condemnation Practice (2023)
Bound book
Member Price: $110
Non-Member Price: $139
Authors Include:
John H. Buonocore, Esq.
Thomas M. Olson, Esq.
Anthony F. Della Pelle, Esq.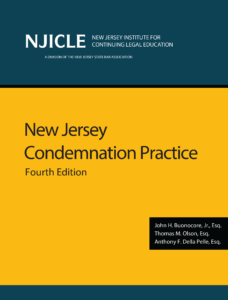 About the Treatise:
This completely updated manual features a wealth of information on every aspect of condemnation practice, focusing on the tools you need to handle a condemnation case, plus a variety of useful forms.
Includes useful information on:
• Client representation
• Just compensation
• Identifying "property"
• Compensable takings
• Valuation
• Proof of value
• Partial takings
• Litigation
• and more
How this book can help you handle cases…
• Puts frequently encountered case law, statutes, and rules at your fingertips for ready reference and convenient citation.
• Includes handy forms you can use to file or answer a complaint.
• Concise checklists help you comply with regulations and deadlines.
A "must" for both inexperienced attorneys handling their first condemnation case and seasoned practitioners seeking to hone their skills.

Member Price: $110
Non-Member Price: $139