New Jersey Elder and Disability Law Practice (3rd edition)
Bound book, including 2010 supplement
Member Price: $135
Non-Member Price: $169
Authors Include:
Editor and Contributing Author: Gary Mazart, Esq.
Contributing Authors:
Martin M. Shenkman, Esq., CPA, MBA
Shirley B. Whitenack, Esq.
Mary E. Wanderpolo, Esq.
Thomas D. Begley, Jr., Esq., CELA
Gary N. Skoloff, Esq.
Beatrice E. Kandell, Esq.
Paul W. Armstrong, Esq.
Marilyn Askin, Esq.
Dana E. Bookbinder, Esq., CELA
Grayson H. Heberley, III, Esq.
Peter A. Marra, Esq.
Brenda S. Mcelnea, Esq.
Robert S. Olick, Esq.
Nancy M. Rice, Esq., CELA
Todd M. Sahner, Esq.
Dana Shilling, Esq.
Maria A. Volarich, Esq.
Jonathan W. Wolfe, Esq.
William P. Isele, Esq.
Joyce S. Brown, Esq.
Kimber L. Gallo, Esq.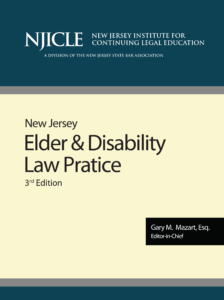 About the Treatise:
This comprehensive manual synthesizes in one publication both the applicable federal law and the broad range of New Jersey statutes and regulations that affect the representation of seniors in this state. It covers all major concerns of seniors and their families as they confront the myriad of issues triggered by the prospect of declining health and diminished capacity.

Member Price: $135
Non-Member Price: $169