NJ Estate and Trust Administration and Procedures Manual
2-Volume Bound Books and Reference CD
Member Price: $260
Non-Member Price: $325
Authors Include:
Written by:
Gerard G. Brew, Esq.
Editors and Contributing Authors:
Glenn A. Henkel, Esq.
Steven K. Mignogna, Esq.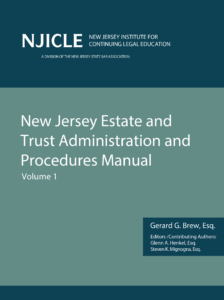 About the Treatise:
This 2-volume set will help you navigate your way through the New Jersey estate administration maze. While many seminars and books tell you HOW a task is done, this information-packed reference treatise helps you further understand estate administration concepts by also explaining WHY things are done in a particular way. It goes beyond the basics to explain applicable legal principles, including the fiduciary duties that are the essence of the estate administration process. Those new to estate administration will get a full overview of the process, from beginning to end, while those with more experience will find this treatise an essential research tool that will further enhance your understanding of the subject.
This comprehensive 2-volume set greatly expands coverage of the steps required to administer an estate after the death of a decedent, whether that "estate" is governed by a will, a revocable trust, beneficiary designations or an intestate administration. In that sense, it reflects a complete update of Walter Kane's popular New Jersey Probate Procedure Manual (The Red Books), which were previously relied upon by thousands of practitioners across the State. Gerard G. Brew, Esq., a partner at McCarter & English, LLP and the manual's primary author, devotes his practice to estate matters including litigation, administration and planning. He goes well beyond the former version of the manual by covering applicable legal principles in depth, and paves the way for you to administer your clients' estates efficiently and with confidence. In addition, drawing on his experience in handling estate administration disputes, he has provided a roadmap to avoid difficult situations as they arise. Mr. Brew is joined by two other leading estate practitioners who, as contributing editors, provide their insight to help you deal with the wide range of issues that you may confront when administering an estate.
New for 2021 is a chapter on Funding And Administering Testamentary And Non-Testamentary Trusts focusing on the transition of assets from the estate to the trust. It also highlights some of the issues that might arise in dealing with implementation of the Trust Code (which was enacted after publication of the 2009 Edition of this Book).
Special feature: You'll also receive a CD-ROM including many exhibits and some sample forms for use as reference in your practice.

Member Price: $260
Non-Member Price: $325