New Jersey Insurance Coverage Litigation (2021)
Bound Handbook
Member Price: $151
Non-Member Price: $189
Authors Include:
Frank J. DeAngelis
William D. Wilson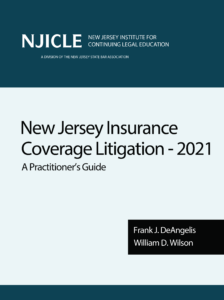 About the Treatise:
It has been almost four years since the second edition of this book was published. In this third edition, the authors have added analysis of every significant insurance case that has been decided by New Jersey state and federal courts since the second edition was published. In addition, this edition contains a new chapter on COVID-19 cases, focusing on first-party property insurance coverage for claims arising out of the coronavirus pandemic. In just the past few months, there have been over 30 decisions issued by both state and federal courts in New Jersey addressing COVID claims.
As was the case with the prior editions, this new edition provides a broad overview of New Jersey insurance coverage litigation involving the enforcement and interpretation of insurance policies. Whether you are handling your first insurance case, are a seasoned insurance law practitioner, or simply need to address insurance issues as part of your business, this book will provide an answer to your questions about New Jersey insurance law.
The book covers both first-party property and third-party liability coverage, and contains everything from a general overview of basic insurance principles to in-depth discussions of complex insurance and reinsurance issues, including: coverage for losses resulting from catastrophic events, Carter-Wallace allocation issues arising out of environmental and toxic tort claims, the duty to defend and/or indemnify, the potential liability of insurance agents and brokers, and the recoverability of bad faith and extra-contractual damages.
Practical strategies and answers to your toughest insurance coverage litigation questions, including:
· Detailed discussion of common issue arising out of insurance claims
· Information relevant to both experienced insurance practitioners
· Insights into may issues raised by in-house counsel regarding insurance coverage disputes
· Discussions of complex insurance issues that are accessible to non-attorneys
· Analysis of over 50 major insurance decisions issued since the last edition
· Up-to-date survey of COVID-19 insurance coverage cases in New Jersey
· and more

Member Price: $151
Non-Member Price: $189