Pritchards New Jersey Estate and Trusts (2015)
Statutes Annotations and Commentary
Member Price: $80
Non-Member Price: $100
Author: John L. Pritchard, Esq.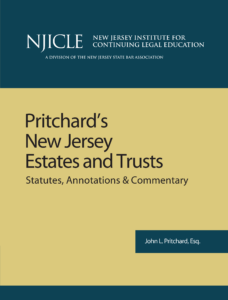 About the Treatise:
The publication of this book comes at a time of a tipping point in New Jersey's body of law regarding estates and trusts. Traditionally, the law of estates and trusts consisted of a comparatively small number of statutes, over an extensive base of case law.
The trend in recent years has clearly been in the contrary direction. In 2004 there was an extensive revision of Title 3B of the New Jersey statutes which incorporated large portions, but not all, of the Uniform Probate Code. These changes, which were effective in February 2005, allowed for an entirely new method of admitting many informal documents to probate as wills.
Even more significantly, non-probate transfers, such as through trust agreements, beneficiary designation forms and pay-on-death accounts, were now included within the new term of a "governing instrument", and made subject to the various rules of interpretation under Title 3B which previously had applied only to wills.
There have been other changes and additions, each of which has usually both codified the rulings of preexisting caselaw, and made substantive policy changes contrary to the caselaw.
One of the consequences of the gradual changeover to a statutory base of law is that attorneys faced with a particular issue in estates and trusts will now find it most efficient to first understand the applicable statutory structure. But this can be difficult because of the piecemeal nature of the changes which have been made.
This book will explain the details of the changes, and serve as a guide to an understanding of the older parts of the statutes, which have often remained opaque. Although the cases still remain an important part of the law, this work seeks to highlight those cases which remain relevant, while allowing others to fade into obscurity, which have been made obsolete by the newer statutes.

Member Price: $80
Non-Member Price: $100