Learning Library
Ethics resources, webcasts and articles, and additional resources for NJSBA members.
Ethics Resources
NJSBA Magazine Provides Insights on the DRB
Here is a primer on the state Disciplinary Review Board. Read on to find out how its decisions affect the type of discipline imposed on lawyers.

NJSBA Magazine Looks at Exhibits, eCourts and Ethics
Check out this overview of how to handle eCourts filings and exhibits, as well as the requirements for electronic submissions in civil and criminal matters.

Are There Exceptions for the Attorney-Client Privilege and Legal Malpractice
New Jersey Lawyer looks at the intersection between legal malpractice and the attorney-client privilege. Find out when the privilege is lost.

Cannabis Law Developments and Ethics Issues
With the legalization of adult-use marijuana, find out what ethics and professional responsibility issues a practicing attorney may face. Read this piece from New Jersey Lawyer.

New Jersey Lawyer Looks at Conflicts
Conflicts of interest are the source of many grievances and malpractice claims. Always be vigilant in checking for possible conflicts and understanding your ethical obligations. Here is a brief look at two Rules of Professional Conduct, promulgated by the New Jersey Supreme Court, that address conflicts.
Getting Off to a Good Start With Clients
In order to be well informed of an attorney's responsibilities and avoid either an ethics grievance or a malpractice lawsuit, they must be well versed in the Rules of Professional Conduct. Here is a look at the rules regarding scope of representation and fees from New Jersey Lawyer. 

Webcasts and Articles

NJSBA PracticeHQ Presents — PDF Power Hour
Recorded on Wednesday, July 26, 2023
Watch the recording here
Download Program Materials
Join us for a free lunchtime learning webinar filled with practical guidance and designed to help NJSBA members improve their professional lives.
PDFs: we love them; we hate them; we absolutely need them. This power hour covers everything the legal professional needs to know about PDFs. We start with the basics – how to create a PDF – and go up from there. Stay out of the news by learning how to properly redact PDFs. With this feature-filled power hour, we have you covered.
NJSBA PracticeHQ Presents — Don't Put Your Computer at Risk (60 tips)
Tuesday, Sept. 19, 2023 – 12 – 1 p.m.
Register here
Download Program Materials
Join us for a free lunchtime learning webinar filled with practical guidance and designed to help NJSBA members improve their professional lives.
Lawyers and legal organizations hold lots of valuable information. Your computer and mobile devices are increasingly attractive targets. You have a legal and ethical obligation to protect data entrusted to you by clients, whether from state-sponsored actors, ransomware prospectors, or script kiddies. With the Rules of Professional Conduct in mind, this session will offer up 60 actionable security tips and tricks to protect your tech.
NJSBA PracticeHQ Presents — Opening and Closing a Firm
Wednesday, Jan. 24, 2024 – 12 – 1 p.m.
Register here
Join us for a free lunchtime learning webinar filled with practical guidance and designed to help NJSBA members improve their professional lives.
Lawyers just starting out and those thinking about wrapping up their practices have a lot in common. Join us for a session to learn about what you need to know to start a firm and what considerations you need to take when it comes time to wind down your practice. We'll cover accounting, marketing, file management and more. This is also an opportunity for new attorneys to connect with potential mentors, and experienced attorneys to connect with attorneys who might just become part of your succession planning!
NJSBA PracticeHQ Presents — Excel Power Tips for Legal Users
Wednesday, March 13, 2024 – 12 – 1 p.m.
Register here

Join us for a free lunchtime learning webinar filled with practical guidance and designed to help NJSBA members improve their professional lives.
Learn the fundamental Excel concepts with real-life examples, including fiduciary accountings, amortization schedules, real estate closing statements, disbursement schedules, and medical bill summaries. In this webinar, we start with the basics and work our way up from here.
PracticeHQ: Word Power Hour
Recorded January 24, 2023
Follow Along with Us! Do you find Word to be a constant source of frustration? You're not alone. Using Word and "clicking around" provides little insight. This webinar is specifically designed to address those realities. We'll show you exactly how to fix common legal drafting problems plaguing you now and avoid them in the future. You'll learn dozens of tips and techniques you can put into practice immediately. Even if you feel you have Word under control, we guarantee you will learn new things about Word in this class.
Speaker:
Jeffrey R. Schoenberger, Esq., Senior Consultant, Affinity Consulting

PracticeHQ: Document Management and Retention: Can I Throw It Away Yet?
Recorded Oct. 3, 2022
It is not uncommon for firms to have hundreds, sometimes thousands of closed bankers boxes sitting around, with some spending thousands of dollars on closed file storage per month. Many firms are starting to move towards paperless office environments, which begs the question(s) "How long do I have to keep my closed files … paper and/or electronic?" … and "How can I convert that paper to digital so I can destroy the paper files?" In this webinar, you will learn the essentials about document management & retention and a common-sense economical and ethical approach to a complex issue.
Speaker:
Jeff Krause, Senior Consultant and Document Management Expert, Affinity Consulting

Webcast – Tame the Digital Chaos
Recorded Wednesday, April 6, 2022
How often have you lost an important business card, wasted 45 minutes searching for a document only to find it in a pile of random papers, felt like your email inbox is out of control, been interrupted so often during the day that you feel like you got nothing done? Learn how to manage your daily time and tasks, improve client communication, and achieve your professional goals. Enhance your time management and technology skills to regain control of your law practice…and your life.
Speaker:
Paul Unger
Partner, Affinity Consulting
Introduction:
Kate Coscarelli
New Jersey State Bar Association
Article – Daily and Weekly Planning to Reduce Squirrel Chasing
February 24, 2022
Legal professionals get an external interruption every 3-4 minutes from email, instant messages, telephone calls, social media, etc. That's bad, but there is something even worse that torpedoes our day … Internal interruptions. Daily and weekly planning are critical if you want to change your life and change your habits.  
Webcast – Legally LinkedIn
Recorded Wednesday, Feb. 16, 2022
Click here to access the video recording
Click here to access the program materials
In today's world social media is becoming more and more ingrained in our daily professional lives. That is why it is more important than ever for attorneys to understand how LinkedIn can be used in their law practice, ethically and effectively.
Speaker: Marc W. Halpert is a self-described "multi-preneur." In 2010 he started his third concurrent company, connect2collaborate, to spread his LinkedIn and networking evangelism to train and coach others and offer professionals the opportunity to better explain their brand and positioning on their LinkedIn profile pages:  why they do what they do vs. the competition.
As a personal LinkedIn coach, he advises and mentors professionals in all walks of life to renovate their LinkedIn personal and company profiles. Marc is also recognized as a high-energy speaker at conferences and as an instructor to sales/marketing, HR/training departments at large and small professional service firms.
Webcast – NJSBA PracticeHQ Presents a FREE webinar: I Know I Need it, But Where Do I Start?
Navigating Your Time, Billing and Accounting Options
Recorded Thursday, Jan. 27, 2022
It's no mystery that law firms need software to run their business – to store data, manage workflow, avoid conflicts, and serve their clients. The problems faced by most law firms is that there is no time to find the right software, it is difficult to determine which features are valuable to your team and clients, and the number of options out there often keep firms from making a decision. In this webinar, we will demonstrate how to navigate the features in several time, billing and accounting programs – giving legal professionals a jump start on the research they should be doing before picking a product for their firm.
Speaker:
Steve Best, Esq.
Affinity Consulting
Kate Coscarelli
New Jersey State Bar Association
Webcast – NJSBA PracticeHQ: Drowning in Email: An Outlook Power Hour
Recorded Wednesday, Oct. 20, 2021
Lawyers and staff are drowning in email, and many feel helpless when trying to get it under control. This webinar covers how to use Outlook's feature set to efficiently store, organize email and attachments, and successfully deal with high email volume. We'll also show you how to fix Outlook's default settings for email, calendar, contacts, and tasks. Finally, we'll explain many amazing and useful Outlook features which most users don't even know are there.
Speakers:
Jeff Schoenberger, Esq.
Affinity Consulting
[email protected]
Kate Coscarelli
Associate Executive Director, Communications, NJSBA
[email protected]
Webcast – The Eyes (And Ears) Have it: Privatize Your Peeping Tech: A Free NJSBA PracticeHQ Webinar
Recorded Monday, July 19, 2021
Smartphones are core to the modern legal professional's existence. It accompanies you wherever you go. Maybe, so does your tablet or Apple Watch. Amazon's Alexa is built into everything from light sockets to thermostats to cars. Alexa recordings have been subpoenaed in murder cases. Many of these devices or the apps on them keep a record not only of your interaction but many times its location as well. This seminar teaches you how to determine what your technology is collecting about you, and how to protect sensitive personal and client information from being swept up in Big Tech's fishing net.
Presenter:
Jeffrey S. Krause | Partner
Affinity Consulting Group
Webcast – 8 Things Killing Your Law Firm and How To Stop Them, a NJSBA PracticeHQ Webinar
Recorded Tuesday, Feb. 9, 2021
Video link: Click Here
Materials link: Click Here
Waste is defined as anything that doesn't add value in your client's eyes, and the competitive business of law demands that we eliminate wastefulness. Clients demand value from their lawyers and are willing to shop around to find it, forcing lawyers to re-examine their practices and processes. In this webinar, you'll learn how to identify and remove the 8 most common types of waste from your practice.
Speaker: Jeffrey R. Schoenberger, Esq.
Senior Consultant, Affinity Consulting
Webcast – Security is Only as Good as the Weakest Link–Legal Tech Security Measures Every Lawyer Must Take, a NJSBA PracticeHQ Webinar
Recorded Monday, Oct. 5, 2020
Video Link: Click Here
Materials Link: Click Here
Rule 1.6(c) stipulates that a lawyer must make reasonable efforts to prevent the disclosure of confidential client information. The comments to Rule 1.6 require lawyers to act competently to safeguard client information, and use reasonable safety precautions when transmitting a client communication. The exact meanings of "reasonable efforts," "act competently" and "reasonable precautions" may be subject to debate. However, doing nothing certainly won't meet the standard. The good news is that you don't have to be a security expert or techie to protect yourself and your office. Learn how to cover all the bases of computer, smartphone, tablet, email, wireless and document encryption. We'll also cover the fundamentals of backing up your electronic data. Half of the battle is simply knowing what questions to ask and it's not nearly as complicated as it sounds. Establish best practices in your office and discover the inexpensive or free tools that will make sure your confidential information remains confidential.
Speaker:
Danielle DavisRoe, Esq.
Senior Consultant, Affinity Consulting
Danielle DavisRoe is a graduate of The Ohio State University Fisher College of Business and The Ohio State University Moritz College of Law. She practice law at a boutique firm in central Ohio prior to coming to Affinity. As a consultant, she focuses on training, management consulting, and document automation.
Webcast – NJSBA PracticeHQ Presents: Avoiding Malpractice- The Good, The Bad and The Ugly of Legal Technology
Recorded Monday, Aug.17, 2020
Video Link: Click Here
Materials Link: Click Here
Legal technology is a double-edged sword; it can cause malpractice or it can guard against it! Most of the top causes for malpractice and grievance issues are related to organization, communication and law office management. As such, they are largely preventable. Learn how to avoid common mistakes while using technology to your advantage by building malpractice avoidance procedures into your workflow.
Speaker: Jeff Schoenberger, Esq.
Affinity Consulting
NJSBA PracticeHQ
Webcast – Essential Law Firm Technology – The Best Of What's Out There
Recorded Thursday, June 11, 2020
Video Link: Click Here
Technology advances quickly and it's not easy to keep up with it while also trying to practice law. Let the NJSBA's PracticeHQ help you. This seminar for members only will define and explain the technologies that can help any lawyer solve problems, improve client service and make life easier. Learn about the essential software and hardware tools that can help you protect client confidentiality, organize case information, manage your practice more efficiently and improve profitability.
Speaker:
Jeff Schoenberger, Esq.
Affinity Consulting
NJSBA PracticeHQ
Webcast – You Don't Have to Go to the Grocery to Hoard These Virtual Practice Tips
Recorded Tuesday, April 7, 2020
Video Link: Click Here
In normal times, if we'd planned a virtual workshop on setting up a remote office or working while mobile, we'd talk about planning a transition and comparing options. We can't do that now. The emergency is upon us. Join the experts behind NJSBA PracticeHQ to learn what you can do to keep working and maintain client relationships while remaining a good citizen as a practitioner of social distancing. We will give you specific tool recommendations (software and hardware you can buy without leaving your home) as well as techniques to practice that preserve the work mindset while operating in unusual times. Learn how to turn a small amount of space into a workable temporary office, how to maximize facetime with clients remotely, and how to conduct business at a distance.
Webinar – The Complete Practice – Bringing Strength and Efficiency to All Areas of Your Firm
Recorded Thursday, April 2, 2020
Video Link: Click Here   Materials: Click Here
There are many components to building a successful law practice, so why focus on just one area of growth?
This webinar takes a closer look at the four quadrants of Legal Practice Management that encompass all aspects
of your firm. We will identify each, discuss key metrics as well as the aspects of a firm to build and how. We'll also
talk about big picture ideas to move your firm forward towards financial success and greater client satisfaction.
Additional Resources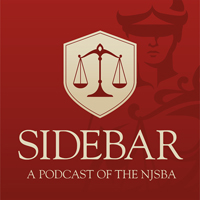 Podcasts
The New Jersey State Bar Association's SIDEBAR Podcast features over 25 podcasts
on a variety of topics of interest to lawyers. Find out more here.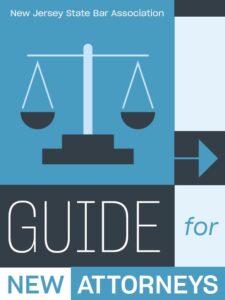 Guide for New Attorneys
Becoming a new attorney in New Jersey can be overwhelming. We've put together some
basic information on what you need to know as you are starting out.
Click here for our Guide for New Attorneys.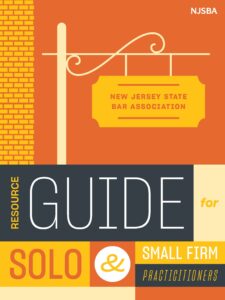 Solo and Small-Firm Resource Guide
NJSBA Resource Guide for Solo and Small-Firm Practitioners Now Available.
Check it out here.
CommunityNET
Networking with the NJSBA membership is one of your best member benefits. Connect, collaborate, publish
and learn on Section, Committee and YLD websites in CommunityNET. Find out more here.
New Jersey Institute for Continuing Legal Education
For over 50 years, the New Jersey Institute for Continuing Legal Education, a division of the NJSBA, has served the needs of the New Jersey bench and bar. From presenting over 300 live seminars and printing dozens of legal manuals each year to publishing hundreds of CLE On-Demand videos and other educational tools, our products are specifically designed to provide the latest strategies, expert advice and guidance to practitioners at every stage of their career. Find out more here.